JOIN US on Saturday September 10th from 10am to 4pm
for HBR's CANINE CARNIVAL
at LAKEVIEW PARK in Oshawa Ontario
Fun and games for furry friends and their families! Agility demonstrations throughout the day.
Face painting and games for young and old:
11:00 am – Doggie fashion show and costume contest
2:00 pm & 4:00 pm – BINGO!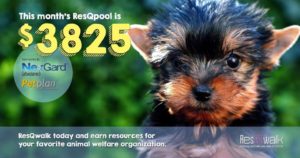 GO FOR A RESQWALK!
It's finally beautiful outside! Why not grab your pups, put on your sneakers, and go for a ResQwalk for HBR? It doesn't cost you a thing, and the cents add up with every little bit you walk and then it is donated to Homeward Bound Rescue!
Just don't forget to turn the app on before you start your walk and to end the walk when you get home. It's so easy!!
Happy Walking!!