Adoption saves lives. Thank you for considering welcoming one of our dogs into your home. If you are interested in one of our rescues the adoption process is outlined below.
---
1. Take a look at our available dogs
Please have a peek at the dogs we have available. If you see one that you feel would fit with your family, please download an application here.
2. Submit Adoption Application
Please be patient if we don't reply to you right away as we are all volunteers and many of us work full time jobs as well – besides, adopting a dog should never be a rush decision!
3. Reference Check & Phone Interview
We will review your application, call you with some more questions and check your veterinary and personal references.
4. Home Visit
We come visit your family. Yes, we do a home visit, it is mandatory. Please insure all members of your family are home so they can ask questions about the process.
5. Meet and Greet
Meet your new friend! Be prepared to drive to the foster home. It may be 10 minutes or 3 hours away from your home. We promise your new family member is worth it! If the first dog you meet is not a match, that's ok! There is sadly never a shortage of dogs. You will find one. Be patient. HBR will match you with another dog.
6. Adoption Fee and Contract
We will have paperwork for you to fill out and information on your new dog for you to keep. There is an adoption fee payable at the time of adoption which our Adoption Coordinator will discuss with you prior to the meet and greet. Our fosters do not handle cash, therefore our preferred method of payment is email money transfer.
PLEASE NOTE:
HBR does not adopt outside of Ontario and will not adopt to homes with Intact dogs (unless in a breeding contract or for medical reasons) proof must be supplied.
---
Meanwhile….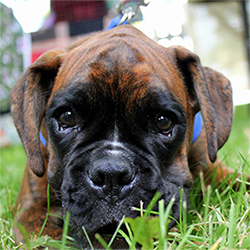 During the time of the adoption process, the dog is in foster care and having any necessary veterinary care completed. Please be aware that many of the brachycephalic breeds can have on going issues throughout their lives or in the future that you as the new family must be willing to take on! Please research cherry eye, entropion, tight tail, heart murmur, dry eye, chronic ear infections, food allergies, cruciate repair, heat exhaustion, bloat/torsion and so on. These are just a few common issue our breeds can have or can develop.
Our dogs come from all over: owner surrenders, puppy mills, shelters, and other rescues. We do not always have a clear history on each dog but we do our very best to disclose all information we do have to the new family regarding behaviour and temperament.
We are looking for homes that are safe for our breeds. Bulldogs and many other brachycephalic breeds should have a home with air conditioning in the summer! High rise condos or apartments may not suited to certain dogs. Pools can also be a hazard unless fenced from the rest of the yard as many of our dogs sink not swim!
---
Fill out our adoption application