Our Canine Ca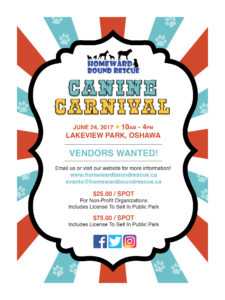 rnival will be June 24th, 2017 in Lakeview Park, Oshawa. If you were able to join us last year, you know this event is fun for furry friends and everyone who loves them. We're so excited to announce that, this year, our event will include:
*DogLoversDays' Lure Course
*K9 Central's Agility Demonstrations
*Emergency Medical Consultant's First Aid Demonstrations
*HBR's Annual Fashion Show and Costume Contest
*Children's games, Raffles, Bingo and more!
Stay tuned! More info coming soon!