Mark your calendar! HBR always has exciting events coming up!
---
Events in June 2018
Furry Friends 5K Run!

Furry Friends 5K Run!

Run or walk along the beautiful waterfront park, supporting Homeward Bound Rescue! Join the Homeward Bound East team or form one of your own. Many of our competitors run with their pets, but that is totally optional. Feel free to bring a wagon or stroller if your pet isn't up to the full 5k. Lots of great prizes and good times to be had by all 🙂

Address: 1425 Phillip Murray Ave. Oshawa, ON (Unifor Local 222)
---
Third Annual Canine Carnival is coming on June 23! Visit https://hbrcaninecarnival.wordpress.com/ for more info!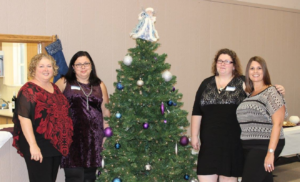 Pictured above, (L to R) Lorelei Downes, Shannon Long, Jana Osbourne, and Tammy Harper at the Homeward Bound Art Auction.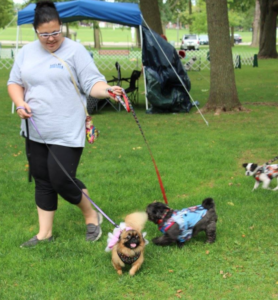 Shannon Long escorts HBR Alum 'Sophie' and brother 'Louis' to the runway for their modelling debut at the First HBR Canine Carnival.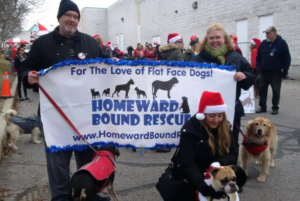 Darren Locke, Lorelei Downes and Tara Colby walked with Lola, Callaway
and HBR's Delcie in the Courtice Santa Claus Parade.
"Who rescued who?" we often ask….
Below, Homeward Bound Rescue alum 'Archie' is picture with his
foster/adoptive mom Michelle Courchaine Jones.  Happy tails Archie!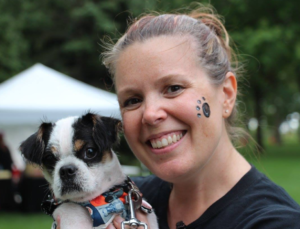 Whether you choose to volunteer, attend, or help out behind the scenes, HBR needs you. Bring your energy, positive attitude, and of course, your love for flat faced dogs.
Homeward Bound Rescue needs YOU!